Congratulations to St. Peters, ranked # 15!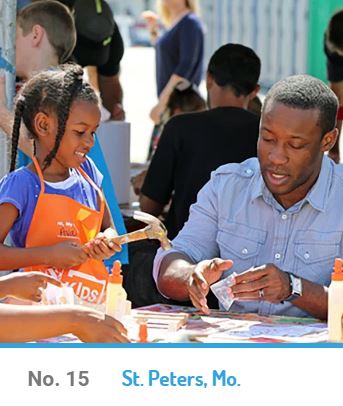 Just 25 miles from downtown St.Louis, St. Peters is an ideal place to establish your family. The cost of housing is very affordable, with median home prices clocking in at $208,666. The school district has a good reputation; students outperform the state averages in test scores on both reading and math. The St. Peters Cultural Arts Centre is devoted to promoting the arts through classes, day trips, art shows, and events like its Time for Tea speaker series, and the Celebrate St. Peters festival features live music, fireworks, carnival games, and rides at Lakeside Park.
The city offers more than 1,200 acres of parkland in 25 parks, along with 20 miles of paved pedestrian trails, 12 pavilions, and dozens of playgrounds, baseball diamonds, and soccer fields. Amateur and serious athletes alike flock to St. Peters's state-of-the-art 236,000-square-foot Rec-Plex, a fitness and recreation center that hosted the 2004 Olympic Diving Trials. —Ismat Sarah Mangla
And Congratulations also to O'Fallon, ranked # 42!